For you to comply with all the recommended meals and surprise also family and friends we show you six ideas for snacks with Jumel products:
Crepe with chocolate syrup and banana
A sweet snack to enjoy alone or with friends. You will need a few ingredients and very little time. With our Jumel chocolate syrup…
You will leave everyone astonished!
Tip: Add banana inside the crepe, the syrup and the banana are inseparable!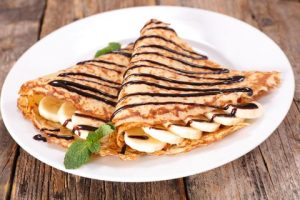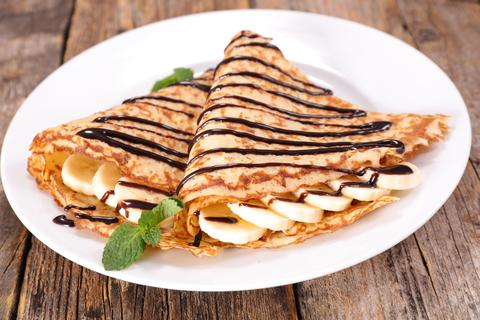 Cookies with extra 50% strawberry jam
Half an hour and you will make a cookie dish with which you will fall in love with your children.
With this jam, your children will eat fruit without realizing it. Get down to work and you will see that they ask you every week.
They will look good with any flavour of you store!.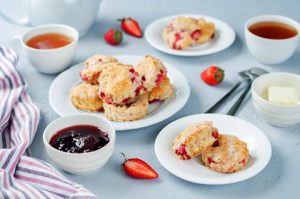 Egg custard with caramel syrup
Why not snack on an egg custard? Although we normally associate it with dessert, it is time to demystify it.
Do you know the best? It has great nutritional value, since it only contains milk, eggs and sugar. And it is very easy to do: beat it all, let it stand for an hour and then pour a nice squirt of caramel on top.
And to enjoy!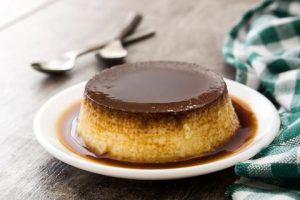 Pancakes with blackcurrant jam
Enjoy cooking with family the traditional American pancakes, a perfect sweet for a snack in conditions.
In 15 minutes and with very few ingredients you will make up to 10 good-sized pancakes, to which you add a good spoonful of blackcurrant jam.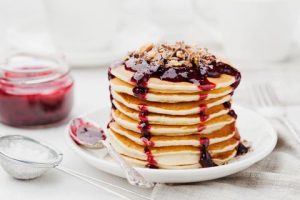 We also have a range of sugar-free jams to eat without regrets and very suitable for people who have problems with sugar.
With them we propose these two healthier options:
Glass with Greek yogurt and extra jam 0% sugars (sugar free) red berries
If you are one of those people who eats healthy, this is your snack. A sweet touch with almost no calories and high percentage of protein, perfect for having the energy necessary for the rest of the day.
(Instead of Greek yogurt you can also use fresh whipped cheese).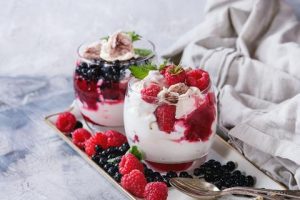 Toast wigh extra jam 0% added supars of peach or tropical
The typical snack that never fails, but… Why not change the products for healthier ones? Make toasts with whole wheat bread and the jam, instead of sugar, with stevia, same flavor, better nutritional value. No need to remove the sweet, just change the products for healthier ones.